Find out how we get help Sales teams build relationships
Social selling is about person to person relationships, and ultimately about building trust. Social selling enables salespeople to nurture relationships over the long term, and removes the need for cold selling. Researching prospects on social media before engaging, means sales people can identify the right fits for their product or service. That means faster conversion rates and happier, long term clients who deliver a higher lifetime value to the business.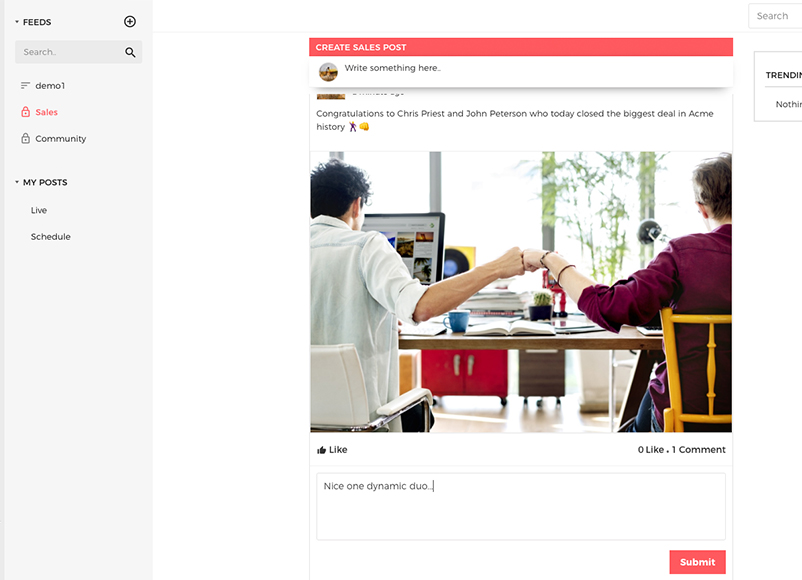 Secure communication feeds can be created inside Visibly to share content between one another, departments or customers. Similarly, feeds can be created per subject matter (e.g. SaaS Event).
The asset library provides sales teams with the ultimate content sharing and management system. Coupled with the ability to create and edit content on the go, Visibly helps sales teams to subtly collect competitor information and work in unison with Marketing to prospect attendees at events and conferences.
Sales teams can set up their own industry RSS feeds and share thought leadership pieces directly to their networks, adding in UTM links to track conversion rates back to their CRM or Google Analytics. Marketing can also suggest appropriate articles, tag individuals or entire departments to share those suggestions.
Supporting your creatives, communicators, recruiters, HR, Marketing and employees.

We can work with your teams as much or as little as you need, our experts are always on hand.
Join the growing number of organisations using Visibly
Sign up for a demo and start using Visibly today