The world of work
has changed...
Visibly builds great cultures and high
performing, engaged teams from anywhere.
How Visibly drives your culture
To thrive in today's rapidly changing world, organisations need to create agile cultures that are capable of supporting constant change. Through a unique set of tools and insights, Visibly helps companies to drive their culture in response to what their teams, customers and markets are demanding, in real time.
The complete culture platform
Why Visibly?
Visibly is not just another survey, chat or advocacy platform, we completely transform the way
organisations shift and shape their culture, in real time.
7.5
Listen
Measure engagement, culture gap, Cx, Ex, values, internal comms and brand advocacy.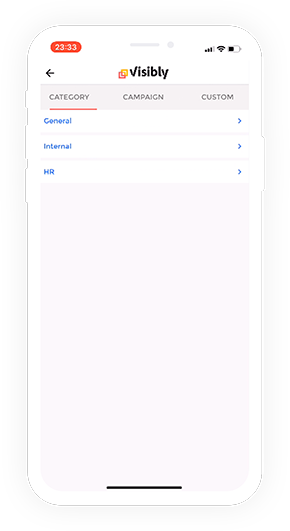 Communicate
Chat, employee advocacy, social intranet, Email, sms, push, magazines and project management.
Engage
Leadership feedback and on-demand learning, recognition and rewards, goal setting and tasks management.
Find out what the experts are saying
Industry leading insights
Latest podcast
Company, culture, and
purpose with Katherine Ray.
Featured blog
Employee experience and
the future of work.
Download eBook
How to build an
employee-led culture.
Let's drive your culture together
Call us on +44-1223-931660 to find out more