Effortlessly drive
your WFH, remote,
and office culture.
Capture and share culture content, measure and
drive employee engagement, recognise, reward
and empower your brand ambassadors.
How Visibly drives your culture
To thrive in today's rapidly changing world, organisations need to create responsive and resilient cultures that are capable of supporting constant change. Through a unique set of tools and expert-led services all centred around your continuous culture transformation, Visibly drives agile people programs that engage and empower everyone in the organisation to better adapt to cultural and strategic changes and drive better business performance.
The complete culture platform
What makes Visibly different?
Visibly is more than just a survey or chat application. Our platform helps People teams launch, measure and optimise engagement strategies in real time, then leverage the results for brand advocacy and tangible business growth.
We are the only software platform that does this.
7.5
Listen
Measure engagement, culture gap, Cx, Ex, values, internal comms and brand advocacy.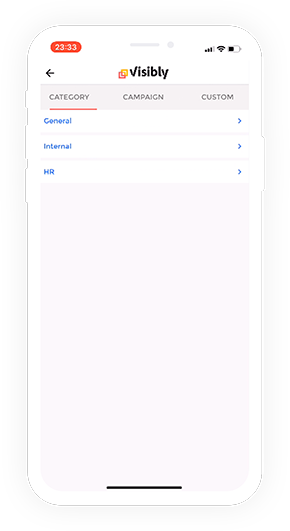 Communicate
Chat, employee advocacy, social intranet, Email, sms, push, magazines and project management.
Engage
Leadership feedback and on-demand learning, recognition and rewards, goal setting and tasks management.
Find out what the experts are saying
Industry leading insights
Latest podcast
The power of networking for
HR with Oliver Sturgeon.
Featured blog
Employee experience and
the future of work.
Download eBook
How to build an
employee-led culture.
Let's drive your culture together
Call us on +44-1223-931660 to find out more